Looking for a way to give your furry friend some more freedom? Installing a pet door in any of your glass doors is a great and easy solution. As pet owners ourselves, we understand the importance of providing our furry babies with easy access to the outdoors. That's why we offer professional installation services for pet doors in glass doors and windows in the Perth area. 
Pet parent in Perth
If you're a pet parent in Perth looking for the perfect pet door, we understand how difficult it can be to choose from all of the options on offer! Our team of friendly and knowledgeable pet door technicians are here to make the process easy and guide you through every stage. 
We can take you through selecting quality materials that won't compromise the aesthetic appeal of your home, right up to the quick installation of the new pet door. Fido or Fluffy will soon be using their new entryway right away. 
Glass pet door installation made easy
Affordable Glass is an owner-operated business with over 25 years in the business which means our installation is streamlined and professional. We have extensive experience working with glass and know which pet doors and door sizes will work best for you. 
Get your pet door quote for your glass now>>
We work with the following leading brands for pet door installations into glass doors: 
We'll work with you to find the option that will best suit your home and your pet, big or small. As we pride ourselves on quality workmanship, you can rest assured that your pet door installation will go smoothly and will be stress-free. All you need to do to start things off is ask us for a quote. 
Custom cat or dog door in glass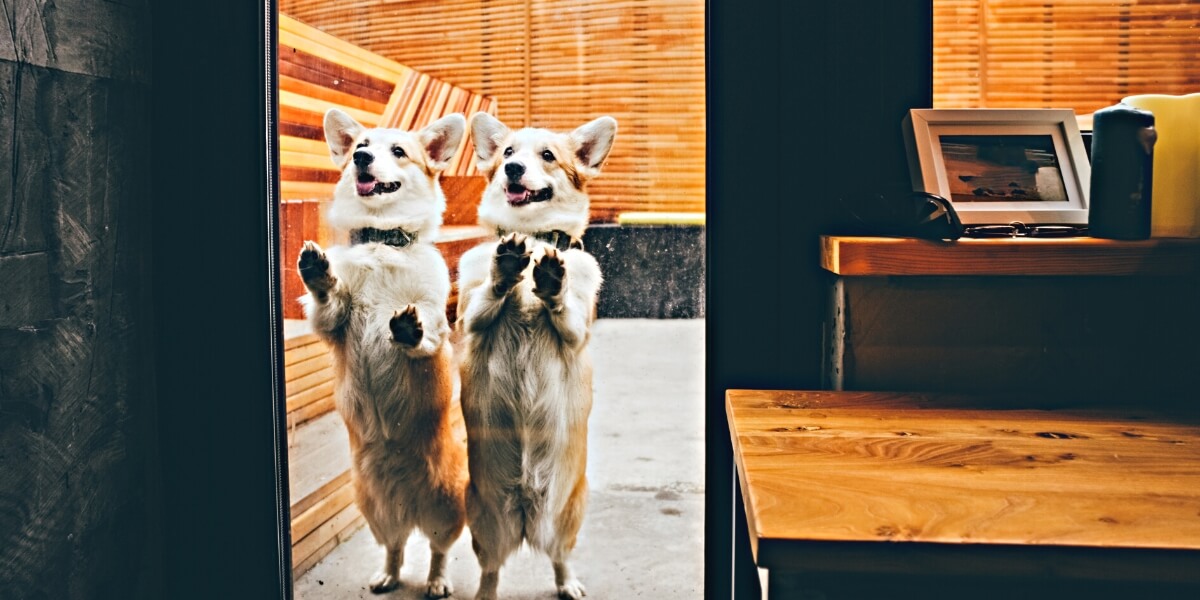 Cats, dogs and doors all come in different sizes which means you may need a custom option for your new pet door. We specialise in custom pet doors in glass that are secure and look great. So no matter the breed, we can create a door that lets your pet in but keeps everything else out.
Our professionals are trained in proper installation techniques so that your pet door can be securely fitted into glass - no compromises necessary. 
If you would like to find out if the custom option is the best fit for you, just give us a call and or read more about our custom pet doors service here. 
Glass fitting dog door sizes guide
Please find below the common sizes we cut to for dogs. 
Small 
Overall Size: 360mm x 295mm
Flap Size: 240mm × 175mm
Cut Out Size: 340mm × 275mm
Medium
Overall Size: 420mm x 340mm
Flap Size: 300mm × 220mm
Cut Out Size: 400mm ×320mm
Intermediate 
Overall Size: 470mm x 390mm
Flap Size: 350mm x 270mm
Cut Out Size: 450mm x 370mm
Large
Overall Size: 520m × 425mm
Flap Size: 400mm x 305mm
Cut Out Size: 500mm × 405mm
Extra Large
Overall Size: 595mm x 480mm
Flap Size: 475mm x 360mm
Cut Out Size: 575mm x 460mm
Overall we can provide other sizes on request. Please find below some examples, showing some good options for consideration. 
Glass pet door FAQs
We'll start by measuring the glass panel and marking out where on that panel the pet door will go. Then a toughened glass panel will be created to fit the new pet door you've picked. Finally, we'll visit again to remove your old glass and install the new glass panel with the pet door
Yes, we can install pet doors in any glass panel, including sliding doors, windows, and glass panels in doors. We use high-quality materials and specialized tools to ensure a perfect fit.
While our specialty is glass pet doors, we can also install pet doors in timber doors or security screens. Just let us know what you need, and we'll work with you to find the best solution.
We cannot use the existing glass for a pet door installation because the glass needs to be cut to size, and the edges need to be polished to ensure a safe and secure fit. Also toughened A-Grade safety glass is the best type of glass for having a pet door installed as this meets the Australian Standard AS128 glazing requirements for safety. This process must be done by professionals to avoid the risk of breakage or injury. If the cost of getting a new glass door is stopping you, many clients look at other options like a security door or wood door pet door installation.
Cheaper quote guarantee
You can not only ask for a quote but even take us up on our Cheaper Quote Guarantee. We value your business and will beat all other legitimate quotes. Trust that our experienced team will help you get the right pet door installed into your glass door and give your pet easy access to the outdoors. 
Fantastic experience. Had the doggy door installed less than a week from our enquiry. Michael was super professional, transparent and really fast. Great price too. Thank you!

S Kelly
What outstanding service, we had an excellent dog door fitted and the installer actually spent more time fixing a dodgy lock on the door. Service like this is a rare commodity! Thank you so much!
You will be the first call for our next job.

Mark Napper
Affordable Glass & Repairs
Caversham, Perth WA 6056
All Perth Areas:
Call 0410 989 964